🖌️ Art Breakdown: Mecha Transformation! 変身!
Let's take an art-dive into the inspiration and iterations on Tiny Starpilot's transforming player jet/robot.
Like many venerable 3D games before me, my character started as a block of tofu.
physical-character control + map-splines integrated into a spline-flying state :) #gamedev #ScreenShotSunday pic.twitter.com/zPfcGAqqZG

— Max! (@xewlupus) November 18, 2019
I'm particularly proud of the squish on landing.
This design actually does a lot of lifting early-on. It cuts the overhead of iterating on character root motion, and clarifies little details like how when the tofu flies it can lean-forward 90° and point it's local-up-axis forward to avoid having to swap from a tall to a long hitbox.
There's a vocal contingent of indies who argue that this is also good to ship. After all, if the game is already fun as a greybox, what function does the art serve, except to demonstrate that you're a big company with money to spend?
I don't buy this. Even on ludological terms, there is utility in the semiotics of artwork for design-intent-signalling.
But indie games are more than mechanics – they're a parasocial experience amongst and between creators and players. I'm not just building an experience to tickle your proprioception-pleasure-centers, I'm expressing solidarity by positioning the work within a shared enthusiast genre: stylish anime mecha shiiiit.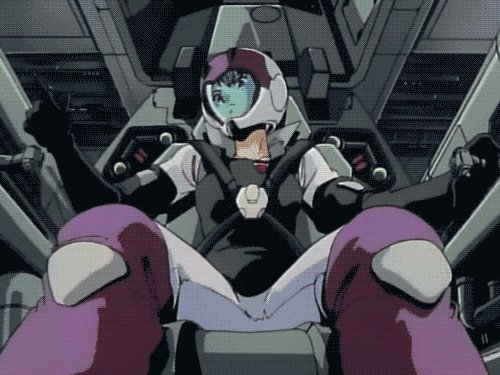 I could watch "booting up cockpit computer" sequences all day.
The more specific proximate motivation for me to investigate character art was seeing the cool process-posts and sizzle-reels Ivy May made for Coquette Dragoon using Blender. Now I wanted to learn Blender!!
Girls love + alternative mecha VN series Coquette Dragoon is now out in early access! ~50k words. Contains full first two chapters and preview of chapter three! Coquette is for adults only and contains dark/suggestive themes, read at your own discretion. https://t.co/mh62zNIE0h pic.twitter.com/nnBO7ZuKVu

— iby (@burgeroise) July 19, 2022
Support independent creators!
My first concept sketch was a vague mix between the Vic Viper from Zone of the Enders: 2nd Runner, and the eponymous Ikaruga Fighter.
I vocalized a lot of transformation and impact sounds while drawing this.
finished the arms and shield-panels. now just for the wing panels which I... forgot to draw in my reference images -__-;; pic.twitter.com/6mYJDNb81o

— Max! (@xewlupus) March 9, 2020
TL;DR Review of Blender: great modeling workflow, but character rigging was a pain.
One afternoon of game-engine-noodling and IK-wrangling later, and we were in business.
Full integration of new character + posing + shooting + jet-transformation!! #gamedev #unity3d pic.twitter.com/4IV12m4jsO

— Max! (@xewlupus) March 30, 2020
Skull Squadron color scheme, Naturally.
This looked sicc, and left me feeling pretty chuffed, but shortly it became clear there were some dealbreakers.
The asset was too detailed, and didn't match the environment.
It was too labor-intensive for other props.
The "jet" shape lacked personality.
So I went back to the drawing board and designed a simpler character that more naturally decomposed into a "boxy"/low-poly"/"fifth-generationy" model.
I still wanted to retain the the boyish/feminine figure.
For the transformation, I decided not to reinvent the wheel and takes the basic mechanics of the Strike Valkyrie from my one true love, Macross.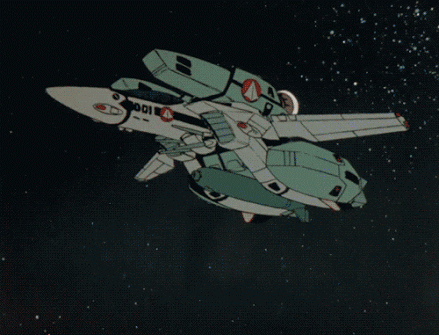 The legs swing into trusters, and the arms fold between them, centered under the chasis.
My personal innovation was to make the knee slide-up along a track on the back of the leg to form v-shaped thrusters, which exagerates the thrust-aperture-narrowing animation in game and makes the afterburner feel more responsive.
I didn't reinvent the wheel, but I did put my fingerprint on it.
This was a triumph, I'm making a note here: huge success. I's hard to overstate my satisfaction. It looks great next to other low-poly assets, it's easy to make quick changes, and it has a lot of personality.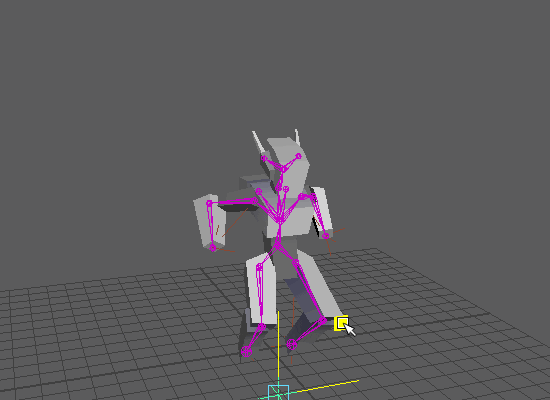 I think I did a Good Job!
Now for the really hard part: picking a name. 🤦